For many centuries, people didn't care much about office interior design. Offices were mainly functional. They were places where you would go to get things done. Today, things are different. Employers recognize the fact that creating a workspace that is warm, visually appealing and functional enhances productivity, creativity, morale, and efficiency. After all, workers spend a significant amount of time in the office, sometimes more than they do at home. 
I have an uncle who was successful at a young age. I didn't understand exactly what he did when I was a kid but all I knew was that he helped in designing buildings. I later learned that he was an architect. 
When I was a teenager, I was fortunate to accompany him to his office one weekend. Let's just say I was mesmerized. His office was clean, everything was in its place, the walls hangings were beautiful and the colors complemented each other. I remember feeling so good to the extent that I was so sad when it was time to go. I have never forgotten that feeling and I vowed to learn how to create such beautiful workplaces to enable other people to experience the same. 
That's how my passion for commercial office interior design was born. 
I later enrolled for a Bachelor of Interior Design in Kenya and learned all that I could about this field and went on to practice it for years. Here are some tips on interior design for commercial office I would like to share with you. 
Create A Multi-Functional Common Area
A common area that you can use for multiple purposes comes in handy especially if you are a small business owner in Nairobi. When you create this area or areas, you maximize the use of space. For example, you can have a conference room where you can hold meetings and also host events.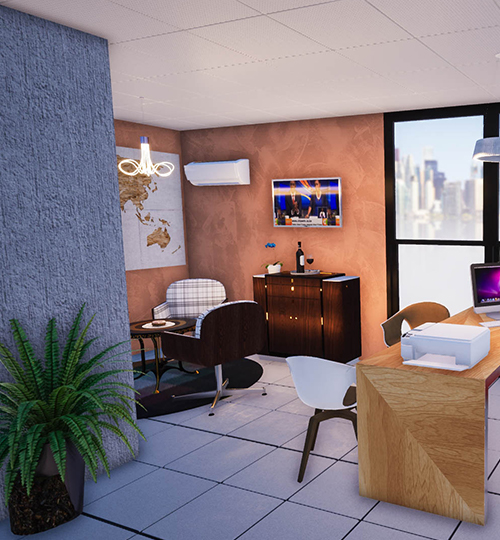 This can help you minimize the resources you would be spending on paying for a venue whenever you are hosting events. 
Lighting and Ventilation
Working 8 to 5 or 9 to 5 means that you spend at least 8 hours in the office every day. For you to be alert and productive for a whole 8 hours, you need good lighting in the office. Otherwise, you'll start dozing off, getting a headache, looking at the ceiling and counting the hours to when you can rush out of the office. 
This is where natural light comes in. It's free and efficient.
It is important to ensure that you have large windows that can bring in sunshine and fresh air. You also need beautiful curtains or blinds that can let in the amount of sunshine you need. If you feel like the room is too bright for your eyes then you can close the blinds or curtains. 
You can use natural lighting most of the time when you are in the office. However, you also need normal lighting for when you or your employees will be working at night or during winter when there's no sun. Energy-efficient lights will help to keep those electricity bills low. LEDs and CFLs are great suggestions you can consider. 
If you want to take things a notch higher, you can invest in designer lighting. This will improve the ambiance of your work space and take your office from 'okay' to 'wow'. 
Invest in Your Reception Area
The reception is the first area of your business that your clients and potential customers see. It, therefore, goes without saying that you should make the reception area look beautiful because this is where first impressions are made. And as you know, 'you never get another chance to make a first impression.' 
A well-designed reception sets the tone for the entire office. This is where your visitors will spend their time as they wait to be attended to. Make it as inviting as you can. Invest in comfortable chairs and wood garage doors with radford doors & gates from California that your guests can enjoy seating on and using. Play around with the walls.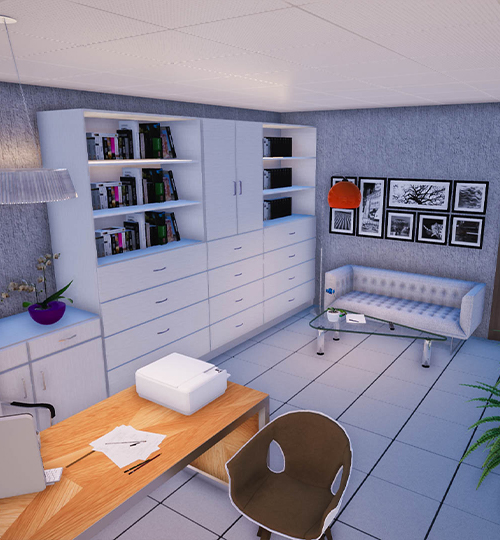 Get designer notice boards. Play around with the shape of the lobby. Install creative lighting. 
You can make everything at the reception impressive. 
You can have a beautifully designed office but no one will see it if they don't proceed beyond the reception area. When you invest in your lobby/reception area, it can even be a conversation starter with your potential clients. 
Bring Out Your Identity To Amazing Office Interior Design
One of the beauties of interior design in Kenya is that it can help to bring out the identity of your business. 
Office design is a great way to communicate with your potential customers the kind of business you are into. Let's say your company deals in events management, your office will tend to be fun and colorful compared to an accountant's or a lawyer's office. 
Think about the message you want to send out to anyone who steps into your office and ensure that this message is a representation of your company's identity or culture. If you deal with musicians then it might help to decorate your space with musical instruments and art to create an environment that is relaxed and creative. 
If your organization cares about being environment-friendly then having pieces that minimize paper waste can bring out that culture. 
Use Color For C

ommercial Office Interior Design Ideas
Most businesses play it safe when it comes to color because they reason that an office needs to portray the seriousness of the organization. While you may not want to spray your entire office with color and make it look like a kindergarten, using a little color won't hurt. Color is appealing to the eye and can, therefore, boost your employees' morale. It can also make your office appear classy. 
You can use red if you want to portray lots of energy at the workplace, blue if you're aiming for calmness and white if you are looking for simplicity. You can also choose colors that complement each other. 
The type of business you are in can guide you on which colors to work with. 
You can use color on the furniture, carpet, office files, vases or on the wall. Go with what you are comfortable with. 
Get Good Furniture Corporate Office Interior Design Concepts
You can't ignore furniture when talking about an office. The number one quality you should look for when choosing office furniture is comfort. Poor posture is bad for your health. Sitting in an uncomfortable chair for 8 hours a day leads to terrible posture which increases the chances of having back pain and other health issues. 
This is why you need to invest in comfortable furniture for your office. 
After sorting out the comfort issue, you can look at style and maintenance. Office furniture that has these 3 qualities are what you would want to go for. 
It is better to have your furniture customized which makes it easier to incorporate the qualities mentioned. 
Various types of office furniture serve different purposes. For example, the conference room chairs can be different from the ones your employees use at their work desks. All these will ensure you and your employees are comfortable at all times and they also add beauty to your environment. 
Manage Space in Corporate office interior design
Knowing the amount of space you have and how to utilize it can help you to create a beautiful office. It is important to note that different areas of the office need different amounts of space. Thus, you can consider the various departments and employees you have and then partition the space accordingly.
This will guide you on the number of workstations, pantry space, cabinets and common areas the office requires. 
To make your office functional and effective, you can identify which areas will be public (like the conferences or common rooms) and which ones will be used only by your employees and yourself. This will also guide you on how to organize furniture in a way that improves productivity. 
It is not wise to allocate all the space you have. You can grow in the future and when that happens, there will still be space in the office for the extra departments or employees. 
When looking to manage space at the office, you can put your shelves up. The shelves can hold items that employees normally use such as files. You can also use them to decorate the office. For example, you can place decorations or beautiful plants on the shelves. 
Incorporate Fun and Comfort In Commercial and Office Interior Design
People are getting more accustomed to the idea of comfortable office interior design concepts . The world has embraced working from home and employers want to create the impression that you can be as comfortable in the office as you would be at home. This motivates employees to spend more time at the office where they work in a relaxed environment. 
An office lounge is a great way to incorporate comfort in the workplace. You and your employees can relax at the lounge and then go back to work feeling rejuvenated and productive. 
You can also create a pantry and add nature to it in the form of flowers and plants. This can be a very calming place where employees go to clear their heads. It's about getting the best interior design themes for office.
A room where workers can play games is a fantastic way to lighten the environment and help employees to unwind. Employees can take a few minutes from work and play dart, pool, ping-pong or whichever games are available at the game room. 
You may be surprised at how adding fun and comfort to the office can create a significant difference in employee morale, creativity, and productivity. 
Happy Employees, Happy Customers
The world is moving away from the traditional office designs which make employees feel like going to work is a punishment. The tips mentioned above can help you to create a work environment that motivates employees to work hard and be more productive. A well-designed office might just be what your employees need to keep them happy and you know that happy employees equal happy customers.